All birthday parties include:
60 minutes of chosen activity with instruction
30 min of pizza (1 slice of pizza and 1 bottle of water included for each child)
Paper goods (plates, napkins, tablecloths)
Feel free to bring a birthday cake and any additional food or drinks.  Please let the birthday party host know if you would like to order any additional pizzas. We supply all standard paper goods but you can decorate or bring in your own themed paper goods.
BIRTHDAY PARTY PACKAGES:
PAINTING PARTIES
Ages 5+
Painting parties are a unique alternative to your ordinary birthday party. You will WOW all the parents when they see what their child will come home with. A painting party is an actual art class so the children will learn many different painting skills &  techniques while having a blast with their friends!
During our parties YOU get to choose what to paint from our art gallery! Our kids paint Parties includes 60 minutes of painting step-by-step with a professional artist.  Children will be painting on 12" X 12" stretched canvas with acrylic paint. All painting supplies included.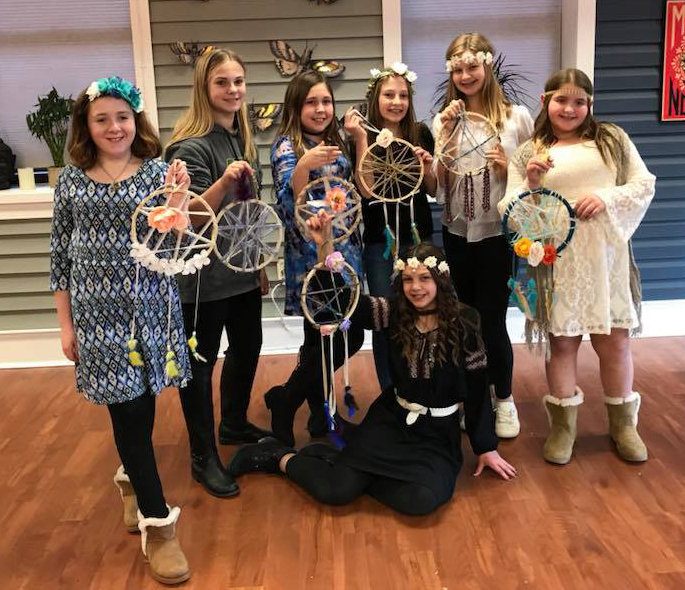 DREAM CATCHER PARTIES
Ages 5+
Dream catchers have been used by native people for ages to ward off bad dreams and help for a restful nights sleep. Native Americans use art as a way to express their culture and style by making these dream catchers unique the same way our kids will during this party. The children will learn about the Native American lifestyle while using various tools & materials to create their very own unique dream catcher!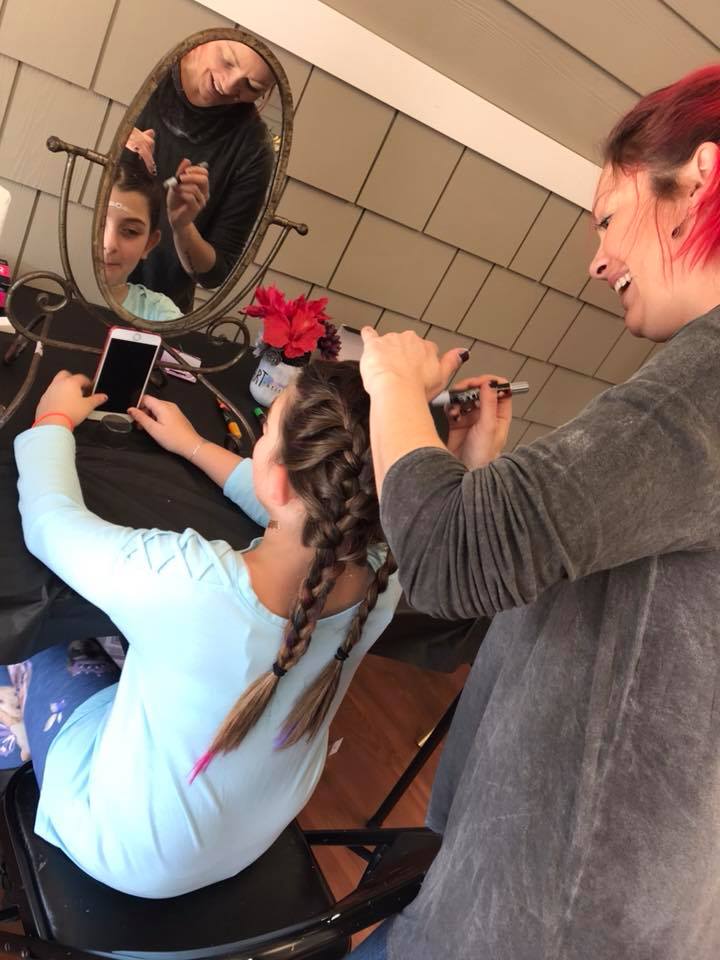 BOHO BIRTHDAY
Ages 5+
Our Boho Birthday was created to give kids an opportunity to explore ways to be creative and personalize their style all while hanging with their friends! This is a great way for kids to bond with each other while embracing their own unique style!
Party includes:
Colorful hair extensions & funky braiding for girls & colored mohawks for boys
•Choose ONE from category A:
-Bath bomb making
-Slime making
• Choose ONE from category B.
-Design your own tote bag
-Make a mini dream catcher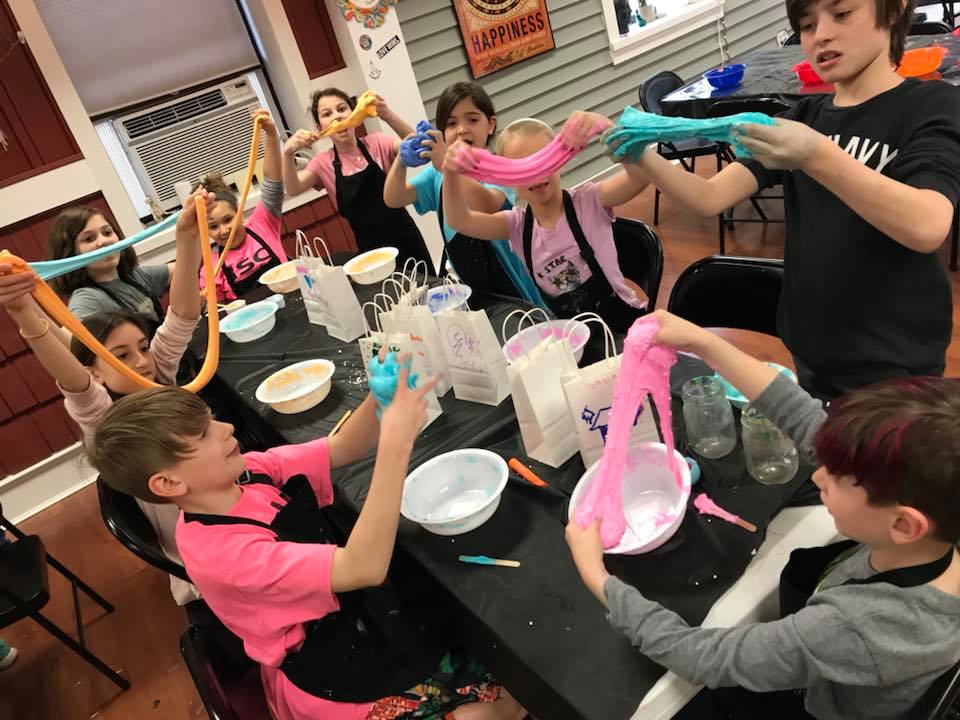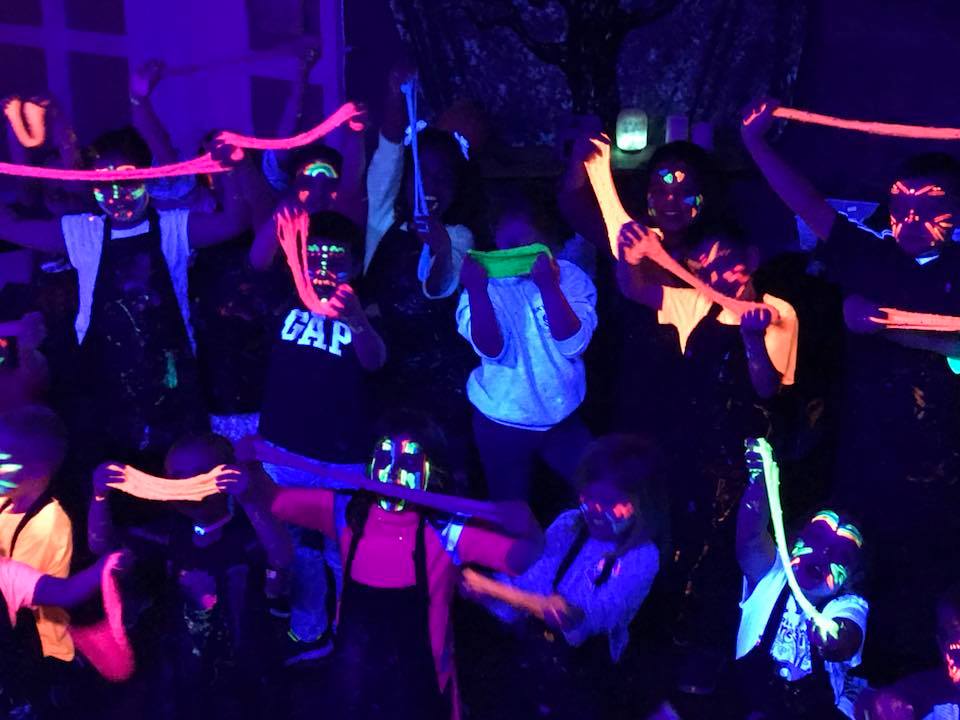 SLIME PARTY & BLACK LIGHT SLIME PARTIES
Ages 5+
Who doesn't love slime? It's fun, creative...AND MESSY! That's why we offer in studio slime parties so you don't have to worry about it in your house! During this party kids will make  2 batches of different slime. We use White glue for 1 batch and clear glue for the other. Let us know if you have a theme you would like us to stick with and we will create a slime batch just for you! Once you learn the recipe you can choose what colors you want and add some textures like glitter & foam balls to make it unique!
Black Light Slime Parties are only held in the evenings and include black light face paint for an additional $1 per child.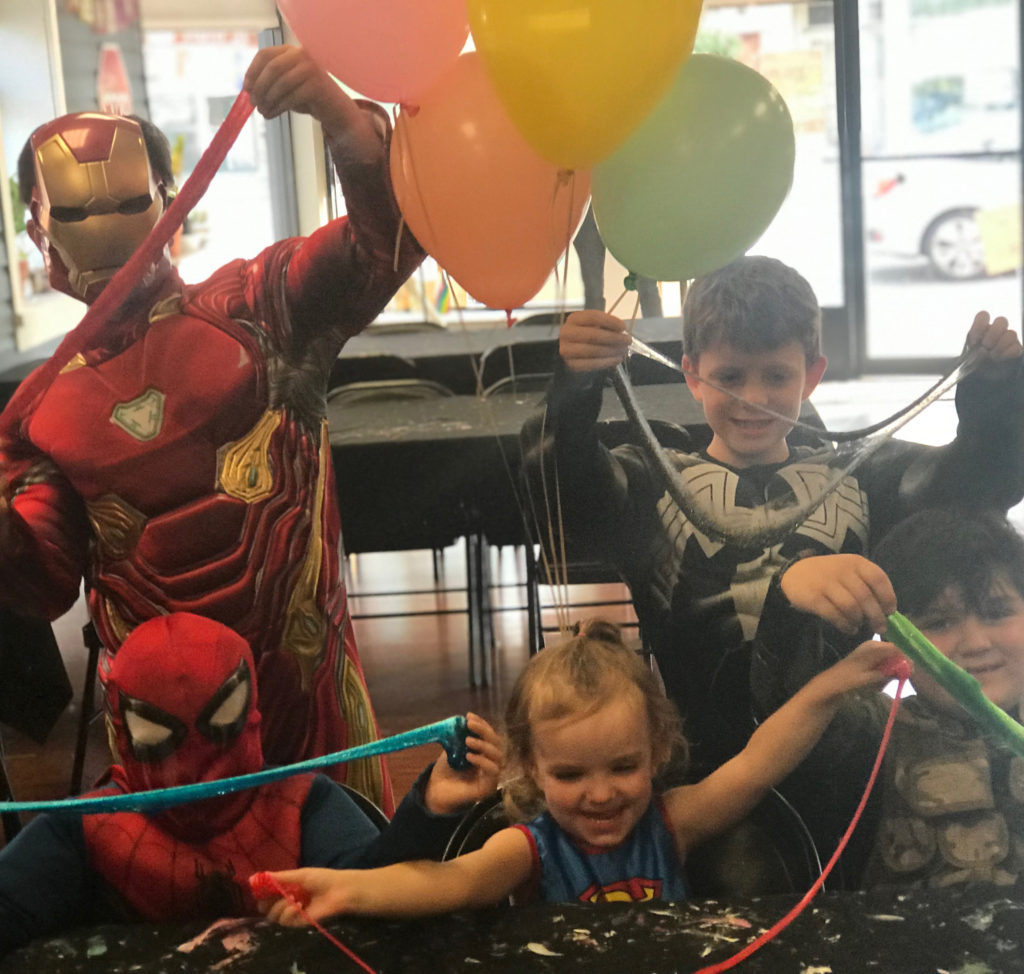 SUPER HERO SLIME PARTIES
Ages 5+
It's a bird...it's a plane...no, it's SUPER SLIME!  We now offer Super Hero Slime Parties where your little super hero gets to create slime using their favorite super hero colors! Make the party even more memorable by letting the kids wear their favorite super hero costumes! Party includes hair extensions for girls & colored mohawks for the boys.
Birthday Party Prices
Parties up to 10 Kids-$300
Each addition child -$25
*Option to add Hair Extensions/ Colored Mohawks to any party for an additional $2 per child. If you would like to mix & match themes & options please contact us at 973.901.0166
Birthday Party Time Slots:
Saturdays
12:00pm-1:30pm / 2:30pm-4:00pm/ 5:00pm-6:30pm
Sundays
11:30pm-1:00pm / 2:00pm-3:30pm / 4:30pm-6:00pm
-Kids under 5 must be assisted by an adult-
To check availability or to book your party please call 973.901.0166 or email
artstitutionbirthdays@gmail.com