Welcome to ART•stitution! Some of the things we offer are:
•Private parties
•Fundraising events
•Scouting requirements
•Team building
and so much more!
We provide the option of selling tickets online as well as promoting on social media. We make things as smooth & easy as possible so you don't have to worry about a thing! We will come to you and bring everything we need to have a creative, fun & memorable event!
ADULT CANVAS PAINTING
Creating is a great way to bring people together! While we use the right side of our brains we are concentrating on a particular task and we give our minds a break from our everyday worries. Our events are a fun way to not only learn new skills, but to have a blast doing it! Duration 2 hours.
Up to 5 painters.........$250
6 to 10 painters..........$300
11-15 painters.............$30pp
16+ painters................$25pp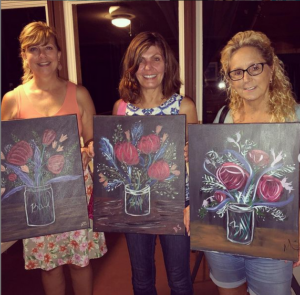 GLASS PAINTING
Painting on glass is so much fun & there are endless possibilities! It's fun to have painted glasses you can take out for each season to make things festive! During our glass painting events you can choose your own designs and we will show you glass painting techniques and proper care. Paint in the comfort of your own home with friends and family or host a larger event at a facility. Glass painting is a great idea for a fundraiser too!
Up to 5 painters.....$250
6-10 painters.........$300
11-15 painters........$30pp
16+ painters...........$25pp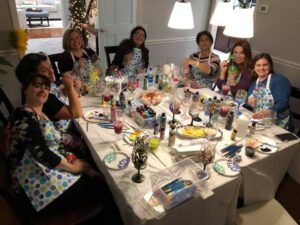 PAINTING BIRTHDAY PARTIES
Kids love to paint...especially on canvas! Our painting parties are a great way for kids to create together and have something better than a goodie bag to take home....their artwork! Birthday child gets to choose painting from our gallery or send us ideas & we will whip something up!
Duration 60 min.
Up to 12 painters.......$300
Ea.add.child..............$25pp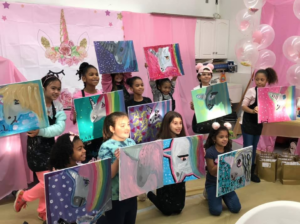 SLIME BIRTHDAY PARTIES
Slime never gets old...ask any kid. That's why we will forever offer our oooey gooey slime parties! During this party the kids make 3 batches of slime each: 1 fluffy, 1 galaxy & the last of the birthday child's choosing. Slime birthdays come with colored hair extensions for the girls & colored mohawks for the boys.
Up to 12 kids......$300
Ea. add. child.....$25pp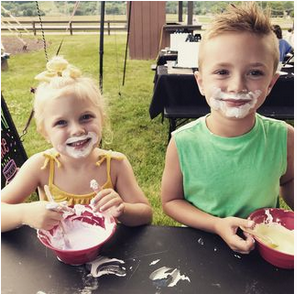 WOODEN SIGNS
Painting on wood has become a popular art form. Wooden signs are also a great way to show off your personal thoughts style! During our classes we teach you the techniques used to create these signs. Choose your own design and we will bring everything to you!
***PLEASE CALL FOR PRICING***